Maiden World - Iron Maiden news, discussion, information and articles


Iron Maiden - Typography and Fonts You are here: Home > Articles > Iron Maiden - Typography and Fonts
Contents
Introduction

Over the years, Iron Maiden have used various styles of typography (also commonly known as "Font faces&quot) on their cover art and other materials. These faces vary from the common to the obscure, and some have even been immortalized into TTF (TrueType Font) form by enthusiasts. In this article, we will briefly cover some of the font styles Iron Maiden have used throughout their art, and in some cases how you can recreate common looks with the font. This information could be useful for anyone creating art or websites in the Iron Maiden community, as well as anyone who has a general interest in the creation of the Maiden cover & promotional art.
Origins of the Iron Maiden Logo
We received the following information from Ray Hollingsworth regarding the origins of Iron Maiden's iconic logo:
The original logo design for Iron Maiden was created by Dennis Wilcocks with assistance from myself at Crowes Art Studio, Rathbone Place, London W1 sometime around September 1977.

The original font was similar to Metal Lord but if my memory serves me well we joined up the letters in both 'Iron' and 'Maiden'. I clearly remember the 'as off' lettering arriving on a photostrip to be cut up and positioned to form the namestyle. I can even remember Dennis ordering the type and bringing it over to my desk.

At the time Maiden were doing gigs around London - Dennis used blood capsules for part of the act and had them scattered on his desk sometimes.

Perhaps over time there was an amended / updated version that used the Metal Lord font.

Dennis was Maiden's second vocalist as far as I can make out and he actually employed me as he was the Studio Manager at Crowes.

I assembled and re-touched the lettering that formed the logo.

As far as I can see ( I spent my career as an Art Director / Typographer ) the original namestyle that Dennis introduced was stronger than any later version.
Metal Lord (The Iron Maiden Font)
The font the hallowed words "Iron Maiden" themselves are written in on all albums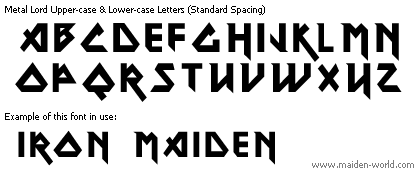 Metal Lord can be commonly identified as the typestyle used within the Iron Maiden wording itself on all albums and singles produced by the band. It has become their hallmark, along with Eddie, and is commonly used in other situations. Grand Theft Auto 3 Vice City used this style of lettering for the numerous "V-Rock" signs that can be found around the cities, and also for the lettering on some posters they made for a ficticious band "Love Fist". The style is synonymous with metal music, and is widely recognizable.
The .ttf truetype font of this lettering, often found as metalord.ttf metallord.ttf and labelled "Metal Lord Heavy" was created by Ray Larabie , of Larabie Fonts in 1996. It is distributed under a free use licence, and can be downloaded from his site,Larabie Fonts, or alternatively here at Maiden World in the Iron Maiden Downloads section.
Iron Maiden (The Hollow Iron Maiden Font)
A hollow version of the Iron Maiden title typestyle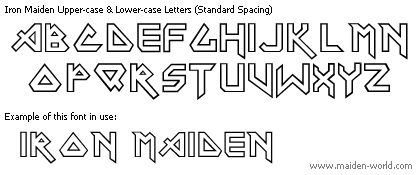 Balmoral (Dance of Death)
The Dance of Death album cover & title font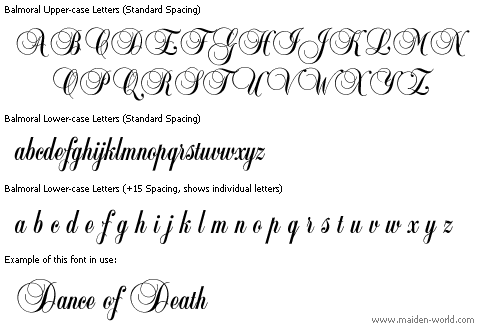 Balmoral is a font distributed by ITC (International Typeface Corporation) and can be purchased at the
ITC fonts website
. Some people have commented that it looks very similar to the typestyle used on the front of Piece of Mind, which is incorrect.
You are here: Home > Articles > Iron Maiden - Typography and Fonts
All content, images and other resources are the property of their respective copyright holders
Specific website content & style is copyright © 2003-2018 maiden-world.com, All Rights Reserved
Admin E-mail:
admin AT maiden-world DOT com
, Site Design by
Jon Simpson