Maiden World

Welcome to Maiden World, a site for Iron Maiden discussion, news and articles
Maiden World is a website dedicated to Iron Maiden, featuring news, tabs, lyrics, wallpapers, and articles. We also have an ever growing collection of information on Iron Maiden Bootlegs, Collectables / Merchandise and Tribute Albums. Maiden World hopes to be definitive source of information for the increasingly large number of Iron Maiden fans out there, and those yet to be enlightened by Eddie and the boys.
Search Maiden World
Iron Maiden News
A gathering of the latest Iron Maiden related news and articles on the internet
Iron Maiden - En Vivo Live DVD CD and Blu-Ray Announced
Posted Wednesday 18th January 2012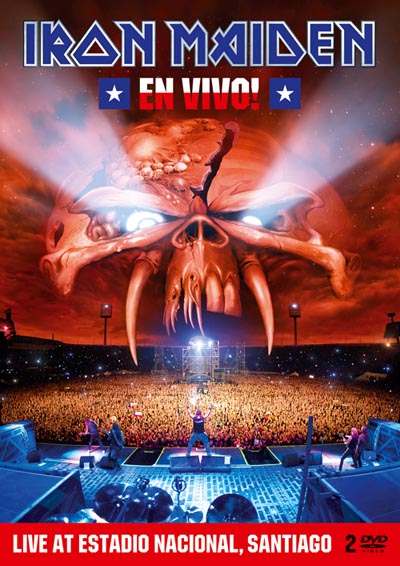 After a storming 2011 with the Final Frontier world tour, Iron Maiden have announced today the release of a brand new DVD/Blu-Ray and CD set called En Vivo which is made up primarily of footage from their first concert in Santiago, Chile. The 2 disc set will also contain a documentary about the tour and multiple special features.
You can get your hands on the new Iron Maiden video/cd in late March 2012 and we will update this page as soon as it becomes available for pre-order.
Read on...
The Final Frontier available for preorder
Posted Wednesday 14th July 2010
The new album is also available for pre-order now - using the links below helps support the site and forums.
The Gota Lejon Concerts - Rock Concerts In Stockholm 1980-81
Posted Saturday 8th May 2010
Maidenfans have just published details of a new photobook covering the 1981 Iron Maiden concert in Sweden at Göta Lejon.
The Göta Lejon cinema was inaugurated in January 1927. The seating capacity was 1300 including 500 on the balcony. During the early eighties it was used for concerts. Those were exciting years. Many post-punk rock and heavy metal bands played there.
Find out more about the Gota Lejon photobook
Iron Maiden announce new album 'The Final Frontier'
Posted Friday 5th March 2010
After months of speculation that a new album was in the works from Iron Maiden, ranging from interviews with members of the band where they spoke of writing new material all the way up to the producer blogging about recording sessions, we can now announce that Iron Maiden will release a brand new studio album in 2010 and it will be called The Final Frontier. More to come shortly.
Read on...
Discussion
Merry Christmas from Maiden World
Posted Thursday 25th December 2008
On behalf of all those responsible for Maiden-World.com, we would like to wish you all a very Merry Christmas and Happy New Year as we head into 2009. Along with all other things happening, we are expecting a new Iron Maiden album in the forthcoming twelve months which will mean a lot of updates and changes to this site, so keep your eyes peeled for some improvements that we have been planning for quite some time. Before then, continue checking the site for the latest updates on the band and what they are getting up to and any resources you might need that we have here.
Read on...
Discussion
All content, images and other resources are the property of their respective copyright holders
Copyright © 2003-2018 maiden-world.com, All Rights Reserved.
Admin E-mail:
admin AT maiden-world DOT com
, Site Design by
Jon Simpson