Maiden World - Iron Maiden news, discussion, information and articles


The Iron Maiden Reissues You are here: Home > Articles > The Iron Maiden Reissues

In 1999 the entire back catalogue of Iron Maiden albums were released as remastered and re-enhanced CDs. Many albums were changed including A Real Live and A Real Dead One that went from being seperate albums into one 2cd double album. Live at Donington was also re-released.

Each of the re-released albums included new extras features such as videos, biographies and interviews. These were accessable through putting the enhanced CD into your computer.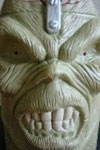 The Soundhouse Tapes, a very rare early recording by the band was also rereleased in America but in limited conditions. When the remasted albums were released fans would have to buy 6 of the albums and then send the reciepts along with $6.66 to Sony Music and they would recieve a limited edition repressing of the Soundhouse Tapes on CD. Only a lucky few fans still do have this reissue in mint condition
Not only were all albums re-released but they were all featured in a box set in the shape of, Iron Maiden's mascot, Eddie's head. This also came with an interview CD and a certificate of authenticity. It was sold for between £125 and £220 depending on where it was bought from. It is no longer available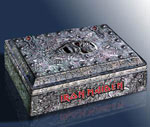 On the 26th November 2002 , a special limited edition boxset (In the shape of a large metal case with Eddie emblazoned on it and Iron Maiden in large letters on the side) named Eddies Archive followed up Eddies Head offering 2 double live albums "BBC Archives" and "Beast Over Hammersmith" and 1 double cd entitled "Best Of The B-Sides" featuring B' Sides previously unavailable as one collection.
Eddies Archive also came with an Eddie themed shot glass and an individually numbered Iron Maiden family tree detailing the entire of Iron Maiden's history as a band. This scroll was held in by an Iron Maiden ring with Eddies Head engraved into it. This retailed for around £60 - £80 again depending on where it was purchased from.
You are here: Home > Articles > The Iron Maiden Reissues
All content, images and other resources are the property of their respective copyright holders
Specific website content & style is copyright © 2003-2018 maiden-world.com, All Rights Reserved
Admin E-mail:
admin AT maiden-world DOT com
, Site Design by
Jon Simpson