Maiden World - Iron Maiden news, discussion, information and articles


Rainmaker 2 Track UK Blue vinyl Single You are here: Home > Collectables > Dance of Death Collectables > Rainmaker 2 Track UK Blue vinyl Single (EM633)


This is the vinyl release of Rainmaker, the second single from Iron Maiden's 2003 album Dance Of Death Released on the 24th November 2003. This vinyl accompanied the CD and DVD singles of the release although it was not as widespread as the other 2 releases. The vinyl is a sky blue colour and has 2 tracks:
Rainmaker (45 rpm)
Dance of Death (Orchestral Version) (33 1/2 rpm)
Rainmaker peaked at number 13 in the UK charts. It went to number 3 in Finland and number 2 in Spain. This release is not very common as it was not as widely produced as the CD and DVD versions of the single.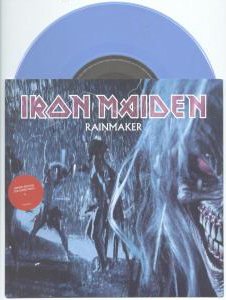 Value £5-6
You are here:
Home
>
Collectables
>
Dance of Death Collectables
> Rainmaker 2 Track UK Blue vinyl Single (EM633)
All content, images and other resources are the property of their respective copyright holders
Specific website content & style is copyright © 2003-2018 maiden-world.com, All Rights Reserved
Admin E-mail:
admin AT maiden-world DOT com
, Site Design by
Jon Simpson