Maiden World - Iron Maiden news, discussion, information and articles


2005 Tour Crew T-Shirt You are here: Home > Merchandise > Iron Maiden T-Shirts > 2005 Tour Crew T-Shirt


Issued only to crew members travelling with the 2005 Eddie Rips Up World Tour, this seemingly generic Green T-shirt was obviously never on sale to the public, making it extremely rare due to the comparitively small number of people who would have been issued with one. There is no writing on the back, however the front contains the band logo along with the title of 'Local Crew 2005' and a joke line saying 'I love humping Eddie's Box' in reference to members of the crew moving luggage and equipment round. The picture in this artcle in particular comes from Shagbagrecords.co.uk which is ran by a member of a Bus/Tour organisation company that worked for Iron Maiden during that specific tour, hence why information about it has come to light. Rated as extremely rare as with most other crew/staff only shirts available for specific tours and it is unlikely that this will be available again (especially unworn) in the future, not counting any auctions of used/worn versions.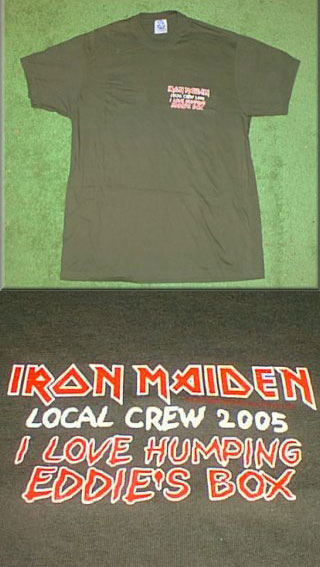 Estimated value: £30+ (Second hand, Unworn)
This item was never sold to the public and is out of production.
You are here:
Home
>
Merchandise
>
Iron Maiden T-Shirts
> 2005 Tour Crew T-Shirt
All content, images and other resources are the property of their respective copyright holders
Specific website content & style is copyright © 2003-2018 maiden-world.com, All Rights Reserved
Admin E-mail:
admin AT maiden-world DOT com
, Site Design by
Jon Simpson