Maiden World - Iron Maiden news, discussion, information and articles


British Tour 1980 T-Shirt You are here: Home > Merchandise > Iron Maiden T-Shirts > British Tour 1980 T-Shirt


The writing on this shirt pretty much explains the story behind it, produced only in 1980 and made for Maiden's first 'official' tour of the United Kingdom (hence the backprint), at the time the dates were to support their debut eponymous album. If you do a bit of searching there are some variations of a theme, with slight differences in the colour of the front print etc. Even earlier incarnations of this design can be seen in the DVD The Early Years and were normally home made versions sported by Rob Loonhouse or the likes and were not available commercially.

There were in fact many shirts made during the bands first year with their record label EMI but sadly examples in any condition are extremely difficult to come by. A genuine version of this shirt will likely never be available unused and a good example will no doubt be rare, hence their value.

Many thanks to Paul Cooper for the pictures and information relating to this product. From time-to-time he sells rare Maiden clothing and products on his eBay store as well as other rock merchandise, so be sure to check it out here.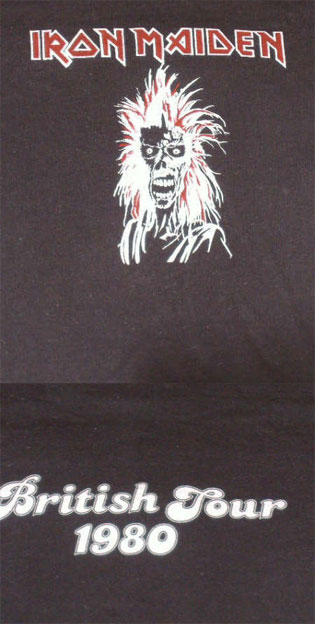 Estimated value: £25+ (Second Hand)
This item is no longer in production and was only sold on the tour. Although unofficial/licensed reproductions may exist.
You are here:
Home
>
Merchandise
>
Iron Maiden T-Shirts
> British Tour 1980 T-Shirt
All content, images and other resources are the property of their respective copyright holders
Specific website content & style is copyright © 2003-2018 maiden-world.com, All Rights Reserved
Admin E-mail:
admin AT maiden-world DOT com
, Site Design by
Jon Simpson