Maiden World - Iron Maiden news, discussion, information and articles


Earls Court 2006 T-Shirt You are here: Home > Merchandise > Iron Maiden T-Shirts > Earls Court 2006 T-Shirt


As you can probably guess from the image, this shirt was originally made available at the merchandise stands at Earls Court, London on the 22nd and 23rd of December 2006 dates of the A Matter of Life and Death World Tour. It stands out as it not at all like the other tour shirts from this period, which mainly followed the album art, instead it is fully customised for the UK based on the Royal Guards of London mixed with Eddie and on the back it has a Christmas theme due to the dates and their proximity to the public holiday. Although it could be considered rare due to it only being available at two events and not being mass produced, the organisers did not sell out or ordered too much of their production run of these shirts and as of 2008, the shirt was still available on the official Iron Maiden merchandise store, Eddie's Megastore.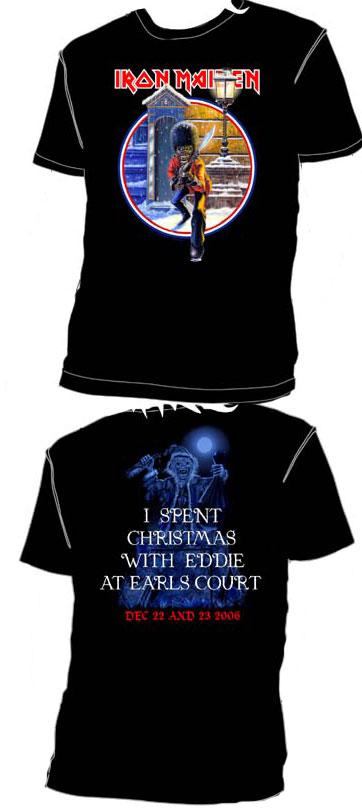 Estimated value: £20+ (New)
This item is still available at some retailers, however production status is unknown.
You are here:
Home
>
Merchandise
>
Iron Maiden T-Shirts
> Earls Court 2006 T-Shirt
All content, images and other resources are the property of their respective copyright holders
Specific website content & style is copyright © 2003-2018 maiden-world.com, All Rights Reserved
Admin E-mail:
admin AT maiden-world DOT com
, Site Design by
Jon Simpson