Maiden World - Iron Maiden news, discussion, information and articles


Monsters of Rock 1988 T-shirt You are here: Home > Merchandise > Iron Maiden T-Shirts > Monsters of Rock 1988 T-Shirt


Only sold at the now legendary Monsters of Rock festival held on the 20th of August 1988, Maiden played alongside Guns n' Roses, KISS and Megadeth to a crowd of 107,000 and this shirt was available at merchandise stands before, during and after the concert. The front of the white shirt contains a customised logo and graphic relating to the Monsters of Rock title, however the back is printed in connection to the Seventh Tour of a Seventh Tour that the band were on during the year, showing the countries that it had been to, as well as a collection of flags. Due to the amount of people who attended the event and most likely purchased this as memorabilia, it wouldn't normally be considered rare, however due to the concert being over 20 years ago, copies of the shirt in a good condition will be sparse and finding a good example in a reasonable condition nowadays would be tough.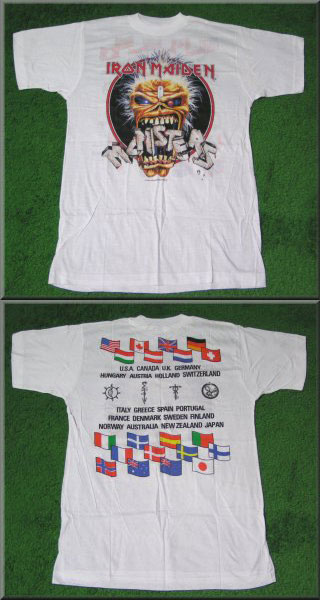 Estimated value: £25+ (Second Hand)
This item is no longer in production and was only sold at the festival.
You are here:
Home
>
Merchandise
>
Iron Maiden T-Shirts
> Monsters of Rock 1988 T-Shirt
All content, images and other resources are the property of their respective copyright holders
Specific website content & style is copyright © 2003-2018 maiden-world.com, All Rights Reserved
Admin E-mail:
admin AT maiden-world DOT com
, Site Design by
Jon Simpson