Maiden World - Iron Maiden news, discussion, information and articles


Ed Hunter - The Iron Maiden PC Game You are here: Home > Ed Hunter - The Iron Maiden PC Game
About Ed Hunter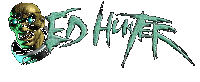 Ed Hunter was Iron Maiden's first computer game and was released on the 17th of May 1999. It was produced in a deluxe 3 CD package. The 2CD double album features the soundtrack to the game itself whereas the third contains Iron Maiden's first computer game. The soundtrack was voted for by fans on the official Iron Maiden website.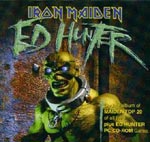 Just as Iron Maiden were the first to release a promotional video, the first to have released a full length concert video and one of the first to have released their entire back catalogue of albums as enhanced CDs they are one of the first bands to have released a video game.
Ed Hunter is a shoot 'em up game in the style of Time Crisis and Virtua Cop where you use your PC mouse to control the shooting. It has 8 levels ranging from the streets of London to the pyramids of Egypt and even into the future.
Ed Hunter System Requirements

IBM Compatible, running Windows ® 95 or Windows ® 98
Microsoft DirectX™ (included)
At least 206MB of Hard drive space
Pentium™ 120 MHz or better (Pentium™ 200MHz or higher recommended)
16MB RAM (32 MB RAM recommended)
4x CD-ROM Drive (8x or better recommended)
DirectX™ compatible video card with 2MB video RAM capable of 16-bit coulour at 640x480 screen resolution (SVGA High-colour)
DirectX™ and Soundblaster™ 100% compatible 16-bit sound card and stereo speakers or headphones required
Windows® compatible mouse required
Supports digital joypad. analouge joystick, Microsoft® Sidewinder™ force feedback Pro joystick, ACT labs PC light gun.
Ed Hunter Materials
Ed Hunter FAQ
Ed Hunter Patches
Ed Hunter Cheats
Ed Hunter Walkthrough
Ed Hunter Soundtrack And Lyrics
Ed Hunter on Amazon
You are here: Home > Ed Hunter - The Iron Maiden PC Game
All content, images and other resources are the property of their respective copyright holders
Specific website content & style is copyright © 2003-2018 maiden-world.com, All Rights Reserved
Admin E-mail:
admin AT maiden-world DOT com
, Site Design by
Jon Simpson